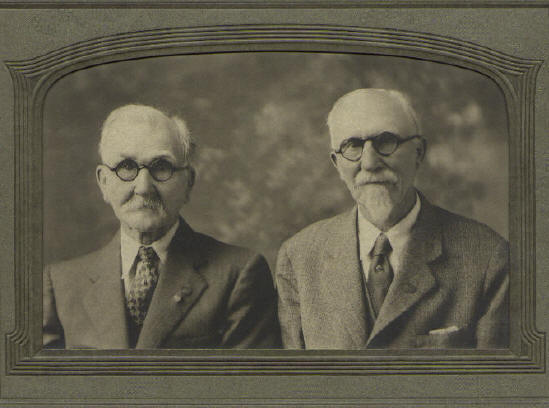 My Grandfather Left-William H. (Henry) Gardner and his brother Right- George F. Gardner both served with the Second Michigan Calvary during the war.
Henry enlisted in Company I Second Calvary Aug 18,1864, at Jackson for 1 year at age 19. Mustered Aug 18, 1864 and discharged at Edgefield Tennessee June 21, 1865.
George enlisted in Company I Second Calvary at Jackson for 1 year at age 18. Mustered Sept 1, 1864 Substitute for Charles A. Merritt. Joined regiment at Nashville Tennessee Sept 10, 1864. Discharged at Edgefield, Tennessee, June 21, 1865.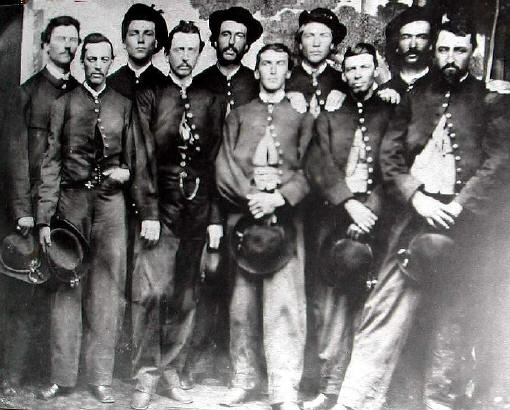 This photo I obtained in November 2003 from the Eaton County Michigan Genealogical Society.
It shows Henry and George Gardner along with these other men,
on the back of the photo it says 1864 and their names.
The Men From Left To Right
A.B. Colter-J.C Haslett-Henry Gardner-Chancey Wolfrom- Soloman Mikesell
John Tuttle- George Gardner-T.M. Haslett-Doc Richards-Bill Sweeney
---
Here is Henry's Obituary as it appeared in the Charlotte Republican newspaper

Charlotte Republican and Leader
February 2, 1934
Henry Gardner
May 18, 1844 January 28, 1934
Henry Gardner was born in New Haven, Huron County, Ohio on May 18, 1844 and passed away on Sunday January 28, 1934, at the age of 89 years, 8 months and 13 days. He came to Michigan when a boy of twelve and spent the rest of his life in or near Charlotte with the exception of a term of enlistment in the union army during the civil war. He enlisted at the age of 19 in Company I 2nd Michigan Calvary and served to the end of the war. Mr. Gardner was married August 4, 1867 to Miss Mary Bracy by whom he is survived. To this union were born five children, Lewis E. Hattie M, Minnie Pearl, and Henry E. All but Hattie M. who died in infancy survives the father. Mr. Gardner has 14 grandchildren, and 14 great grandchildren. He is survived also buy a brother George F. Gardner who is 87 years old. Mr. Gardner was a most kind and loving husband and father and; leaves a host of friends who mourn his passing. The funeral service was held at the Cheney funeral home at 2:00 o'clock on Tuesday afternoon. Rev. R.W. Roth of the Congregational Church officiated.