In late September the 78th finally got the news it had been waiting for, They were going oversees. There was much speculation as to where they were going, would it be Europe or the Pacific, the whereabouts was being kept very secret. Dad was perhaps the first enlisted man in the division to find out the answer, he normally ran the mimeograph machine At HQ, but when it came time to print the shipping orders Dad was told to step aside an officer had to print the top secret documents. When the officer was done he carelessly threw the backing sheet for the stencils in the wastebasket, Dad was able to read the orders from the dents the typewriter made in the paper. The orders clearly read Europe, first stop the staging area at Camp Kilmer, New Jersey then on to England.
The men arrived at Camp Kilmer in early October, they spent a week there, filling out forms, having lifeboat drills, rechecking equipment, getting there inoculations updated and medical exams.
Dad received a pass to New York City, where he saw the stage show Oklahoma, and saw the Milton Berle show being broadcasted from the RCA Building, Uncle Milties guest that night were Lupe Velez and Lou Gerhigs widow.
Continue on to Europe with Dad and the 78th click here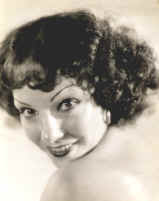 Movie Actress Lupe Velez