Back at Altendorf Division headquarters waited there turn to cross the Rhine, Traffic was backed up bumper to bumper for nearly 5 miles. Dad remembers the Germans were trying to bomb the bridge at Remagen, and the Americans were firing there Anti Air Craft Guns at the planes, They fired so many rounds at the enemy the shrapnel from the shells rained down on the buildings in Altendorf.
On March 21 The Division HQ moved to Bonn, They were to cross the Rhine here. They waited in Bonn for a Pontoon bridge to be built across the river, engineers were building the bridge under cover of a smoke screen all the while The Germans were shelling it.
While in Bonn they set up office in a three story apartment building, here they also slept. The men found this to be very comfortable accommodations as they had beds to sleep in and hot and cold running water.
While in Bonn the men had a little fun, they found some canes and top hats and strutted around in them.
On March 24 Dad got some bad news, He found out his cousin Howard Maurer had been killed in fighting in the Philippines.
On April 8th the men moved to Eiklehart, Dad don't remember much about Eiklehart, perhaps because Eiklehart had a brewery there, men were going in and out of the brewery like ants, they would go in and fill 5 gallon jugs of the stuff he recalls.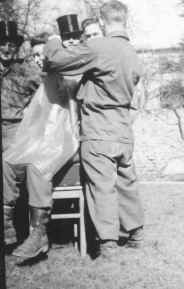 Dad cutting a mans hair in Bonn, while his buddies in top hats look on. 1945

George Roper, Bennie Sacco, August Livert